When most people consider offering snacks at the office they consider doing a poll. (We highly recommend doing this. Create a free one on JotForm or Google Forms). On that poll they might ask questions like:
what types of drinks would you like to see in our coolers/vending machines?
what types of drinks would you not like to see in our coolers/vending machines?
what types of snacks would you like to see on our snack racks/in our vending machines?
what types of snacks would you not like to see in our coolers/in our vending machines?
what do you think makes a great snack and beverage program?
how often would you like to see a rotation of product?
how often do you think you'll enjoy the snack/beverage program?
what dietary needs are most important to you?
Although these are all great questions and certainly part of building a successful snack program in your Dallas/Fort Worth office; they only represent part of the picture.
There are three things you should include automatically, no questions needed. These three things are: sustainable products, dietary specific snacks that cover multiple dietary limitations and culturally diverse snacks.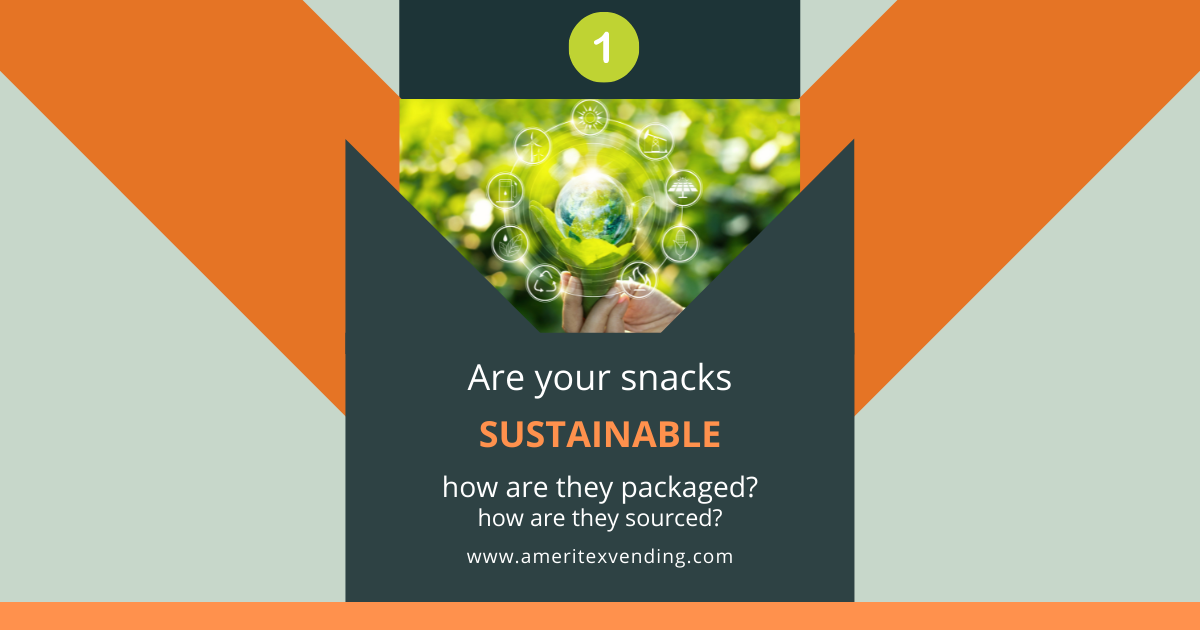 Sustainable Products
There are now 56 million millennials in the American workforce, that's a little over one third of the working population; making them the current largest working generation. Millennials care about the earth and they want to work with companies who share their same values.
So how do you create a snack program that focuses on sustainability? It's easy.
Start with your paper goods and serveware (cups, plates, utensils, napkins). Make sure you are purchasing compostable brands like World Centric.
Offer snacks that are sustainably made. This could be in the way ingredients are sourced, how the product is made or how it's packaged. A few of our favorite sustainable brands are:
Begin to eliminate as much plastic as possible – if a beverage can be offered in an aluminum can or a glass bottle opt for that over a plastic bottle.

Dietary Specific Snacks
Don't make your team members ask for special accommodations to match their lifestyle. Rather than ask, be intentional and include some items that fit a wide assortment of needs from the beginning. As you build your snack program and start shopping make sure you include a few of the following items:
Gluten-free
Vegetarian
Vegan
Dairy-free
For a healthier workplace and to offer snacks that fuel rather than deplete energy we would also recommended including snacks with:
High protein
No sugar added
Whole ingredients

Diverse Snacks
Your team is diverse which means your snacks should be too. Everyone should find something they love in their Dallas break room, which means you may want to consider providing diverse snacks in addition to standard American snacks (think Lays, Quaker, etc.).
Consider bringing in:
Spicier profiles
Snacks representative of other cultures (one of our favorites is Flow's Tasty Treats, a nut and toasted corn mix, that's based on a popular snack in Ghana)
If you aren't sure where to start, don't be afraid to ask team members who grew up in a different culture or country than you did, for a little guidance. A simple question like, "when you were growing up, what was your favorite snack?" could be a great place to start and it could be a really fun way to get to know each other better.
Work with Ameritex Vending to Build an Amazing Snack Program for Your Dallas Office
If you're ready to build a competitive snack program that leaves employees feeling understood and appreciated we'd love to help. You can call us at 972.572.5200 or email info@ameritexvending.com. We'd love to help you build a snack program that runs smoothly and leaves everyone happy.