Have you be receiving complaints that the office coffee is bad? Like mud bad? Are team members openly complaining about the coffee that was meant to be a benefit? It might be time to make some changes. The good news is that not all change has to be hard and there are some simple changes you can make to improve your office coffee program.
Before we start talking about changes let's first diagnose what type of coffee equipment you have. In office coffee service there are four types of equipment to choose from including: liquid, airpot, single cup and bean to cup.
Liquid Coffee Machines
Liquid coffee machines are the units where the coffee comes as a frozen concentrate. The machine then adds water to the concentrate one cup at a time.
Liquid concentrate brewers can get a bad rap. Yes, these machines are very similar (if not identical) to coffee brewers you find at popular gas stations and no they aren't known for their craft roasts, BUT these machines do an amazing job of getting hot coffee to the masses. ⁠ ⁠ If a large portion of your team works in a factory or in a distribution center, this type of machine may best suit your needs and your budget. ⁠ ⁠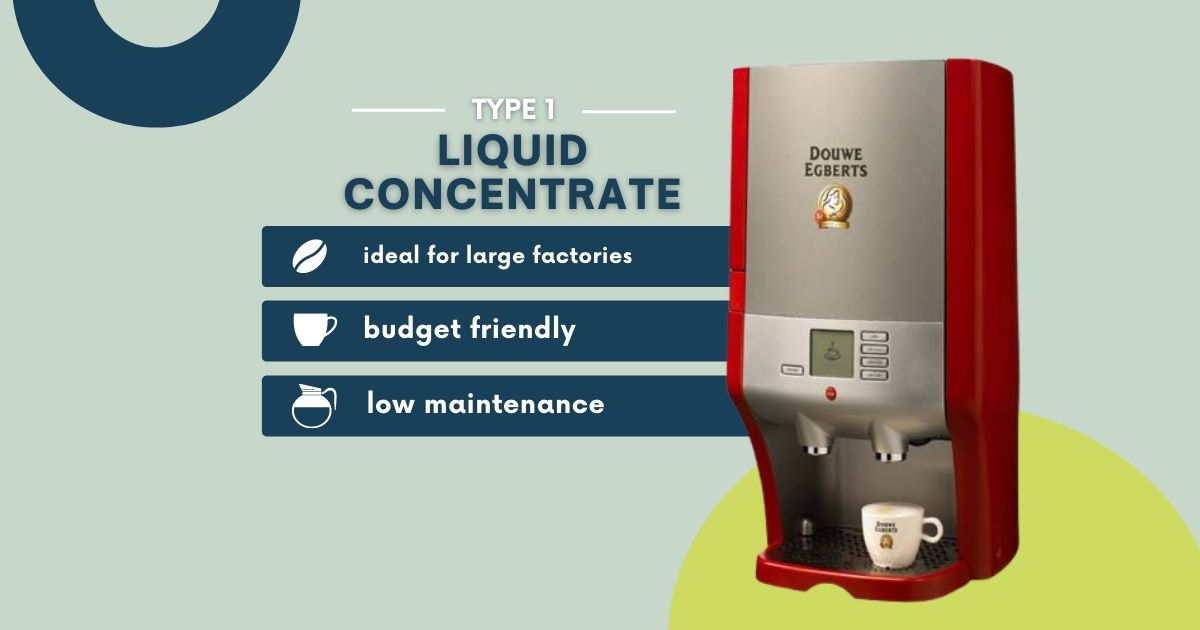 Airpot Brewers
Airpot brewers are what we would consider an office coffee staple. These are the little engines that could and they serve multiple purposes in any office.
These machines work best when paired with portion pack coffee. Portion packs are perfectly portioned bags of ground coffee that make the ideal 12 cup pot. ⁠ ⁠
Why portion packs?
They make less of a mess. Because the ground coffee is portioned into perfect sized bags, team members simply open the bag above the filter basket and pour. This typically creates less of a mess than when team members pour or scoop coffee from larger canisters.
They create consistent pots of coffee. Again, because the ground coffee is perfectly portioned for a 12-cup pot of coffee, the end result (as long as employees only use one bag) is always the exact same.
Airpot brewers work great for every day coffee consumption in breakrooms where multiple people start their day at the same time or take similar timed breaks/lunches. Because they brew 12 cups at once and come with carafe displays, it's common for one member of the team to get coffee started about 10 minutes before the day or break begins. ⁠ ⁠
Airpot brewers are also great to have on hand when the work might be split between office workers and warehouse workers. If you have a larger amount of team members in the warehouse you can provide Starbucks from airpot brewers to accommodate the larger volume and then provide Starbucks inside the office via a bean to cup machine or single cup machine. All team members get the same brand of coffee just delivered in the best way possible to keep up with usage and ensure freshness. ⁠ ⁠
If you have large events or board meetings we also highly recommend keeping an airpot brewer on hand. With displays for carafes you can set up a hospitable coffee station without having to have coffee catered. ⁠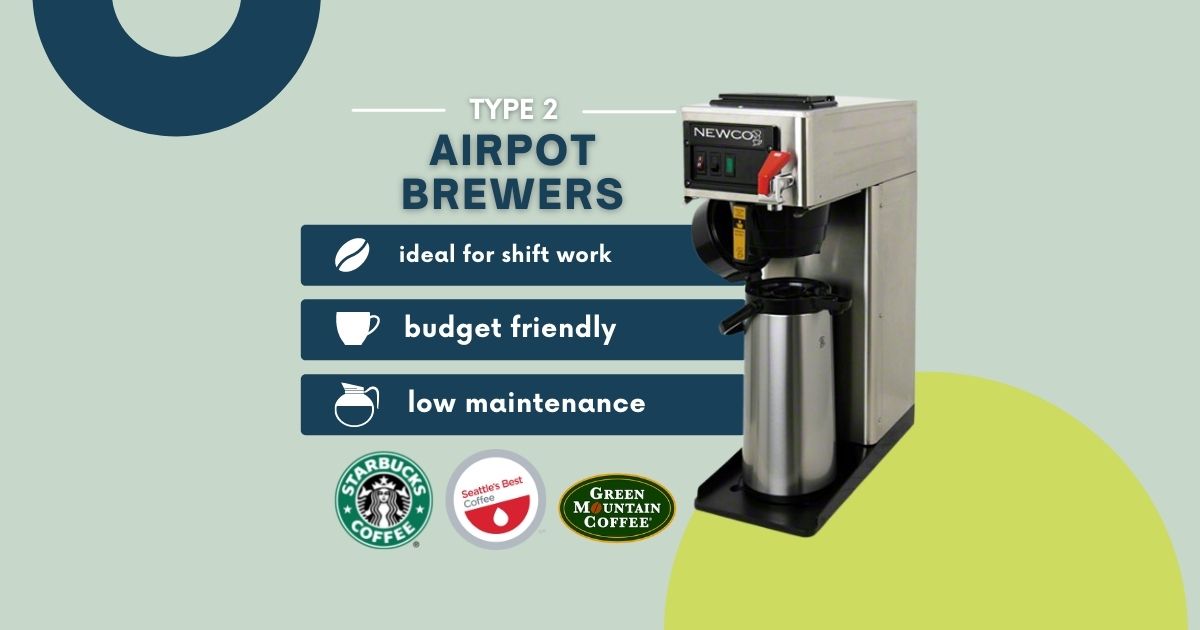 Single Cup Machines
Single cup brewers like Keurig and Flavia have been less popular in recent years due to a perceived negative impact on the environment. Although K-Cups and Flavia pouches can certainly add to the landfill, if a company wants to, they can participate in robust recycling programs offered by both companies. ⁠
⁠
Pre-COVID we would not have recommended single cup options as a first solution to your office coffee needs; however, with more and more companies offering hybrid schedules and with fewer people coming to the office every day, single cup coffee brewers may be the best option to keep coffee fresh and to reduce waste (why brew an entire pot of coffee if only two cups are drank?).⁠
⁠
If you have less than 20 people in the office every day, this may be the best option for you. ⁠
⁠
Single cup brewers are also a great way to offer a variety of roasts (light, medium and dark) as well as flavored coffee. Although tea is available in K-cups we recommend reducing environmental impact and cost by offering tea bags instead of K-cups. ⁠
⁠
Not sure if this is a good fit for your office? Take a quick 2 minute quiz to find out which coffee brewer best meets our office's needs.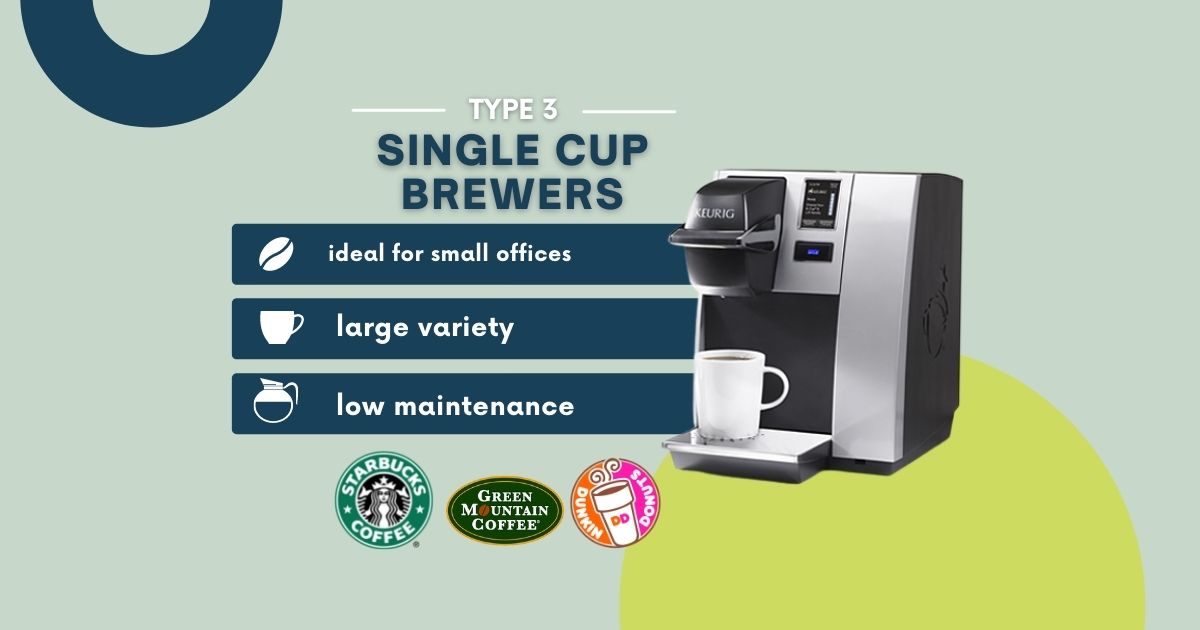 Bean to Cup Machines
Bean to cup machines are the Cadillacs of the office coffee world. These are the machines that grind whole coffee beans fresh with each cup. These machines are also notable because of the addition of powder canisters that allow team members to select "fancy" drinks like mochas, cappuccinos, lattes, etc. ⁠
⁠
These machines are arguably the most popular in Dallas offices, and for good reason (they make a really good cup of coffee) but there are a few things to be mindful of:⁠
⁠
– of all the equipment listed above they do have the highest monthly rental cost and the highest minimum monthly purchase requirement⁠
⁠
– because they are grinding whole beans and dealing with powders, they need a daily rinse (this is as simple as pushing a button but you'll need a dedicated team member to do this on location).⁠
⁠
– of all the machines, they are the most high maintenance (but don't worry, we'll be there the same day if anything goes wrong). ⁠
⁠
Not sure if this is the right type of machine for your office? Take a quick 2 minute quiz  to see which type of machine would be the best fit for your office. ⁠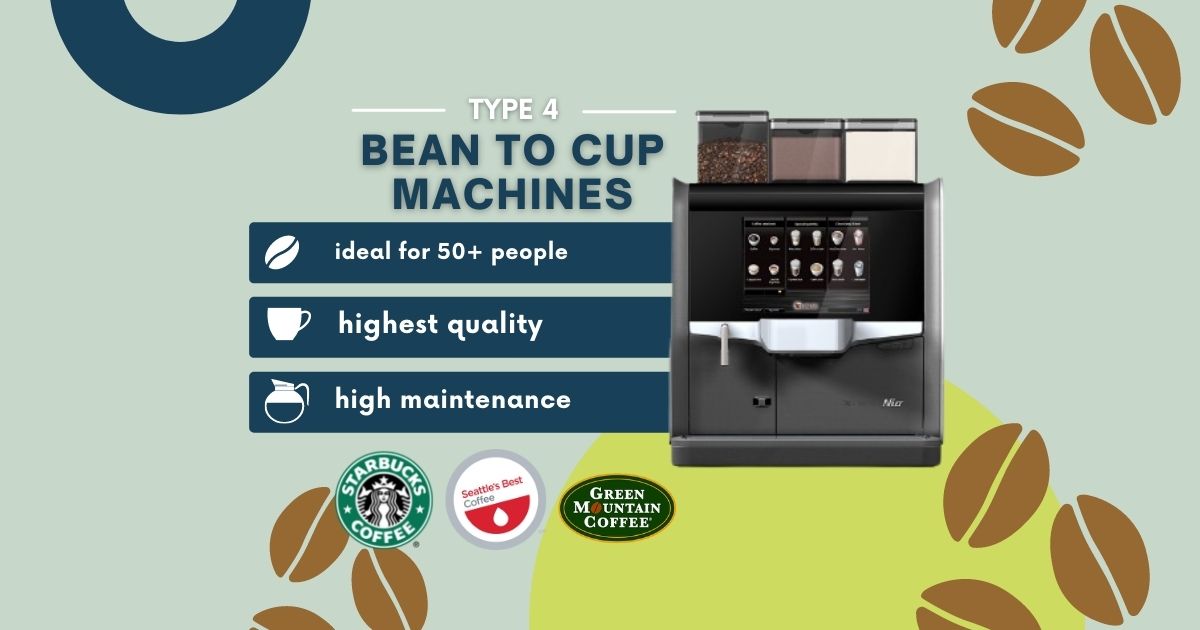 Are you ready to improve your office coffee service for your Dallas break room? Call us at 972.572.5400 or fill out this form and one of our team members will contact you ASAP.
⁠