With companies returning to the office, or at last with the largest volume of individuals trickling back to the office since the start of the COVID pandemic; it's time to start thinking about office snacks again.
A lot has changed in the last few years but one thing has remained the same, employees still take perks and benefits into consideration when choosing a job. Now, with the continually evolving workplace, they may be considering those perks and benefits to determine if they want to go back to any office at all.
One of the perks with the highest visibility is snacks. What are you offering your Dallas team members in way of either free snack options, healthy snack options or at least accessible snacks if they don't want to/have time to leave the office?
If you have been using the same vending machines with the same product for longer than you can remember; it may be time to give your vending service a makeover. Here are some ways you can do that without breaking your budget:
Options for Traditional Vending
Traditional vending in the Dallas Fort Worth Area gets a bad reputation but it's usually because the "vendors" are using outdated equipment, hand-written labels and product they bought on a clearance at a local big box store. At the very minimum your vending machines should have:
professional labels
a mix of healthy and traditional snack options
multiple forms of payment including: cash, mobile pay and debit/credit card readers
If you don't have those three things, you have the wrong vendor.
If you have those three things but are craving more variety, ask your vendor for a monthly sales report, detailing what is selling (and what isn't in your machines). Your Dallas Vending Service should be able to give you a full break down of sales and make suggestions on how to refresh the variety to best cater to your employee's tastes.
Give Away Some Snacks
If in addition to a larger variety of product, you also want to offer snacks at a discounted rate there are three main ways to do this:
Traditional Subsidy Programs – in these programs, your Dallas Fort Worth Vending Service lowers the vend price (the visible price to your team members) and bills your company for the difference in vended product each month. In other words if a candy bar typically vends for $1.50 but you want team members to pay $0.50, the price on the machine would read $0.50 and your company would be billed $1.00 for that candy bar at the end of the month
Vending Bucks – these paper coupons act as money in a vending machine. Dallas Fort Worth offices typically purchase these in bulk (maybe $100 at a time) and then Supervisors, Team Leads, etc. have them to hand out at their disposal to employees who have gone above and beyond, met a deadline, exceeded expectations, volunteered for the job no one else wanted, etc.
Mobile App Payment/Stipend – At Ameritex Vending we offer the latest technology from 365 Markets, allowing your team members to use their phone pay via the 365 app but also allowing you to credit their account with a free weekly/monthly stipend to use at their disposal. This device is called a Pico device and the system works like this:

You give us the first and last name of each employee you would like to receive a stipend along with their work email
Let us know how much you would like to give as a free stiped (i.e. $5/day, $20/month)
We set up every team member with an account and load their stipend
Team members download the app to access their funds and begin snacking
Each week/month you are billed on what was used from the uploaded funds, not what was actually uploaded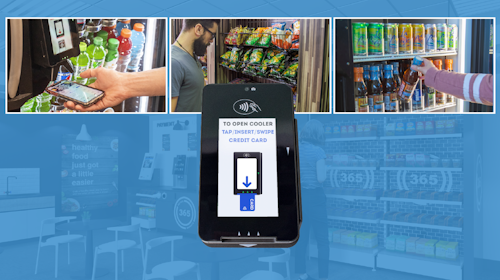 Upgrade to a Micro Market
If you're ready to say goodbye to traditional vending (aka you're ready to think outside of the box) but you aren't ready to fully subsidize (aka give away everything for free) a micro market may be the next best thing. You can learn more about Micro Market services here.
Just like in vending, micro markets are conducive to a subsidy and/or stipend system which could allow you to offer controlled free snacks/beverages to team members. The added benefit is that micro markets offer a wider variety of product.
Because of the larger footprint know that in most cases, for a micro market to be placed, you would need a minimum of 75 full time employees on location and would need to pair a coffee service with the market.
Providing a Customer-First Experience  
We pride ourselves on best-in-class customer service to all of our customers. In fact, we live by the mantra "clean, stocked and working", which was coined by, Founder Johnny Wallace. This mantra is part of our foundation and it is at the forefront of everything that we do as we continue to grow the business.
For more information about adding an office coffee service, micro-market, office pantry service, or vending service to your Dallas Fort Worth break room, contact AmeriTex Vending at 972.572.5200 or info@ameritexvending.com. We look forward to working with you!